Winchester's Implant and Cosmetic Dentists
Delivering exceptional and unparalled care drives our teamto continually improve and adapt. With this mindset we pursue ongoing education from experts in a variety of dental specialties, including Botox, cosmetics and dental implants. When you place your trust in our office you can know that the latest techniques and dental technology are being utilized for your care. Dr. Keally has a goal of exceeding all expectations you have for your dental visits.
Carson P. Keally, DMD
Dr. Keally was born in Johnson City, Tennessee and grew up throughout the Southeast. He has called Central Kentucky home since 2001, graduating from Dunbar High School and attending Georgetown College where he received his bachelor's degree in Marketing and Finance. At Georgetown College he graduated Magna Cum Laude and was a member of the Varsity Golf Team, Lambda Chi Alpha and Financial Investment Team.
Dr. Keally earned his DMD at the University of Kentucky College of Dentistry, where he completed elective coursework in Orthodontics and Sports Dentistry, including dental trauma and sports injuries. He was awarded by the Academy of Osseointegration for his experience in implant dentistry and continues this passion with placement and restoration of Biohorizons implants. Dr. Keally is passionate about dental technology and actively works with companies like Acteon to improve the use of 3D CBCT images across our region.
Dr. Keally desires to connect with all of his patients, allowing for an open conversation that results in not only beautiful dentistry, but also long lasting and functional smiles. Dr. Keally is passionate about cosmetic dentistry, implant dentistry, and smile reconstruction while helping patients of all ages overcome their dental anxieties. Offering Botox and Dermal Fillers are an extension of our cosmetic offerings and allow our patients to achieve another level of cosmetic happiness.
He is an active member of the American Dental Association , the Kentucky Dental Association (serving as the 2022 Scientific Sessions Committee Chairman), KDPAC (serving as a Board Member) and The Bluegrass Dental Society (serving as Executive Board Member). Dr. Keally also participates in Spear Study Clubs, meeting with the regions top dentists and specialists to continuously hone his skills and knowledge. Dr. Keally is certified in laser dentistry through the WCLI, allowing him to use our Waterlase dental laser for minimally invasive and pain free care. Dr. Keally has completed the Implant Pathway Continuum , one of the nations best dental implant education platforms, learning from the best minds and clinicians associated with Implantology. The educations attained allow Dr. Keally to care for his patients from the comforts of our office and in many cases avoid having to visit multiple specialists. Dr. Keally far exceeds the required amount of yearly education, all in the pursuit of excellence.
In his free time, Dr. Keally enjoys golfing, bourbon collecting/tasting, duck hunting, horse racing and regularly attends a variety of sporting events. He also enjoys spending as much time as possible his wife, Stephanie, their son (James), daughter (Quinn) and dog (Frank). Together they enjoy experiencing the best of the Bluegrass state with family and friends.
Call now to schedule a visit with Dr. Keally!
William Richard Catron, DMD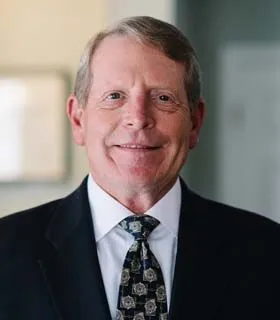 Dr. Catron is a life-long resident of Winchester, KY. After graduating from George Rogers Clark H.S. he received his B.A. from Transylvania University in 1975 , then his Doctor of Dental Medicine degree from the University of Louisville Dental School in 1979.
Dr. Catron has been very active in the Winchester community since returning in 1979. He served on the Clark County Board of Health from 1980 to 1984 and as chairman 1982-1984. Dr. Catron was elected to the Clark County Board of Education in 1985 and served through 1993. He has also been actively involved in various community activities including the Chamber of Commerce and American Cancer Society.
Dr. Catron has been very active in the dental profession. He served as a part-time professor at the UK Dental School from 1980 to 1983. He also has served as President of the Bluegrass Dental Society, Vice President of the Kentucky Dental Association and as an alternate delegate to the American Dental Association .
Dr. Catron has participated in extensive continuing education. most notably at the prestigious Pankey Institute where he completed the entire course continuum, making him one of less than five dentists in Kentucky to hold such distinction. He aslo completed a one year mini-residency at the University of Kentucky Oral Facial Pain Clinic and has provided sedation dentistry for a number of years following extensive training with the DOCS organization. Dr. Catron maintains certification in laser dentistry through the WCLI and is active in a local Spear Study Club.
Dr. Catron and his wife Debbie, have four children; Elizabeth, Will, Robert, and Sarah. They have recently welcomed two grandchildren into their family. In his free time Dr. Catron enjoys fishing, hunting, gardening, reading, and volunteering at First United Methodist Church.