Posts for tag: dental implant
By Catron & Keally Dentistry
October 17, 2020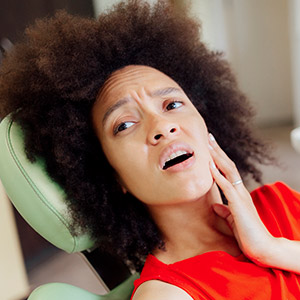 The subject of allergies covers a wide swath in medicine. Among other things, people have allergic reactions to animal fur, various foods and plant pollen. The effects are equally wide-ranging, anything from a mild rash to anaphylaxis, a life-threatening shutdown of the body's vital systems.
Approximately 5% of people are also allergic to various metals including nickel, cobalt, chromium and gold. Reactions to metal can occur when an allergic person comes in contact with items like jewelry, clothing or even mobile phones. There's even a chance of a metal allergy reaction from certain kinds of dental work.
It's unlikely, though, that you should be concerned if you're considering dental treatment or cosmetic work to upgrade your smile. Although allergic reactions like inflammation or a rash have been known to occur with amalgam "silver" fillings, it's quite rare. It's even less of a concern since "tooth-colored" materials for fillings are now outpacing the use of amalgam fillings, which are used in out-of-sight back teeth.
Of course, metal is used for other dental treatments besides fillings, including the most popular of tooth replacement systems, dental implants. An implant is essentially a metal post, usually made of pure titanium or a titanium alloy, which is imbedded into the jawbone. Even so, there's little chance you'll develop an allergic reaction to them.
For one thing, titanium is highly prized in both medical and dental treatments because of its biocompatibility. This means titanium devices like prosthetic joints and implants won't normally disrupt or cause reactions with human tissue. Titanium is also osteophilic: Bone cells readily grow and adhere to titanium surfaces, a major reason for dental implants' long-term durability.
That's not to say titanium allergies don't exist, but their occurrence is very low. One recent study detected a titanium allergy in only 0.6% of 1,500 implant patients who participated.
At worst, you may need to consider a different type of tooth replacement restoration in the rare chance you have a titanium allergy. More than likely, though, you'll be able obtain implants and enjoy the transformation they can bring to your smile.
If you would like more information on allergic reactions and dental restorations, please contact us or schedule an appointment for a consultation. You can also learn more about this topic by reading the Dear Doctor magazine article "Metal Allergies to Dental Implants."
By William Richard Catron, DMD
October 27, 2014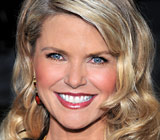 Supermodel Christie Brinkley has a one-in-a-million smile, but she is just one of millions who have benefited from today's preferred tooth-replacement technique: the dental implant. In a wide-ranging interview, Brinkley told Dear Doctor magazine about a helicopter accident she suffered while back-country skiing.
"I fractured two molars in the back of my mouth and I had to get two dental implants," Brinkley told the magazine. "I am grateful for the dental implant technology that feels and looks so natural."
You might think it serves little purpose to replace a missing back tooth that was barely visible in your smile to begin with — especially if you don't spend a lot of time posing for magazine covers. But this is actually not the case. Your molars are extremely important for chewing and even for maintaining a more youthful appearance.
Dentists generally agree that losing posterior (back) teeth can have many consequences for the remaining teeth and their surrounding structures, i.e., bone and gums. If back teeth are missing, the front teeth end up bearing more stress than they were built for. And there are certain things that happen when any tooth is lost, whether front or back, that can affect function and appearance.
For one thing, when a tooth is lost the adjacent teeth tend to drift into the empty space or tip towards it. This can adversely affect your bite. Too much shifting can render a tooth basically useless and also leave it more vulnerable to gum disease.
Another complication is the loss of tooth-supporting bone that inevitably occurs when teeth are lost. When a tooth comes out, the bone under it actually begins to melt away. Since back teeth support the vertical dimension of the face, their loss can cause what's known as "bite collapse" — a reduction in facial height that becomes increasingly noticeable over time and can make you look older.
A dental implant can prevent all of these things, while providing you with a replacement that looks and feels just like the tooth you lost.
If you are interested in learning more about implants, please contact us or schedule an appointment for a consultation. If you would like to read Dear Doctor's entire interview with Christie Brinkley, please see "The Secret Behind Christie Brinkley's Supermodel Smile." Dear Doctor magazine also has more on "Replacing Back Teeth."
By William Richard Catron, DMD
April 02, 2014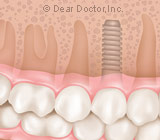 A dental implant as a permanent replacement for a missing tooth can match or even look better than your original tooth. How this happens takes knowledge, skill, experience, and even some art.
Here are some of the factors involved:
Bone quantity and quality: To look and function like an original tooth, an implant must be supported by an adequate base of (jaw) bone and gum tissue. Bone has a tendency to melt away or resorb after a tooth is lost. Using new bone grafting techniques can help minimize the bone loss that occurs during healing at the extraction site. Bone grafting can also be used to rebuild lost bone at the implant site.
Adequate bone supporting neighboring teeth: If you lose bone that supports teeth on either side of an implant, the papillae (the little pink triangles of gum tissue between the teeth) may not regenerate after the implant is placed.
Your inborn tissue type: If your gum tissues are thin and delicate rather than thick and robust, they will be more difficult to work with. To ensure that there is sufficient gum tissue support, (gum) grafting may be necessary.
Using the temporary crown as a template: A dental implant actually replaces a tooth root. Most dental implants are made of commercially pure titanium, which fuses with the bone in your jaw, making it very stable. The crown, the part of the tooth that is visible above the gum line, is attached to the implant; a customized temporary crown can be fitted to the implant. The temporary crown is a trial for the final crown. It can be used to assess color, shape, the appearance of your smile, and the implantâ??s function in your bite and speech. It gives you the opportunity to decide about design adjustments before the final, permanent crown is placed.
The skill, experience, and collaboration of your dental team: Each situation is different. The final success of your implant depends on your pre-surgical assessment and diagnosis, as well as how the surgical and restorative phases of treatment are performed. The use of an outstanding dental laboratory is vital to a successful result.
Contact us today to schedule an appointment for an assessment or to discuss your questions about dental implants. You can also learn more by reading the Dear Doctor magazine article "Matching Teeth & Implants."